Introduction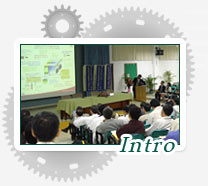 With the rapid evolvement of various industrial technologies in recent years, automation technology has been recognized by both the academic and industrial circles as one of the most influential technologies in Taiwan. Considering the present industrial development, the academia ought to play the pioneer role in promoting advanced researches in the field of automation technology. To assist Government in legislating national industrial policies and upgrading technology industries, the Automation Division of National Science Council (NSC) has proposed a research and development plan, which includes the following three areas: general researches, priority researches, and major promotional focus researches.
Priority research projects are cross-discipline research projects. The first projects, aiming at micro/nano electromechanical systems, intelligent maintenance and prognostic systems, have been promoting since August 2004, and are presently expecting achievement reviews. Furthermore, a new project emphasizing intelligent robot technologies has been bringing into practice in 2007. In the future, more automation technologies will be promoted via the execution of priority research projects.
On the other hand, general researches and major promotional focus researches are within-division projects. General researches focus on automation core technology, automation equipment and manufacturing technology, and automation systems integration technology. The promotion of general research projects continues throughout the years to store up basic energy for performing advanced researches. Major promotional focus research areas include Intelligent Robots,Opto-mechatronic Systems and Inspection Technology, and Intelligent Manufacturing Systems. These research topics will be the promotion points of NSC Automation Division in the years ahead.
It is hoped that the above mentioned proposal can give reference to Government or the authorities concerned in legislating national industrial policies and upgrading technology industries.
Should you have any question and inquiry on Automation Engineering Program,
you are always welcome to contact us at autonsc@kuas.edu.tw